THE A LIST: 9 Guiding Principles for Healthy Eating and Positive Living
By Roslyn Franken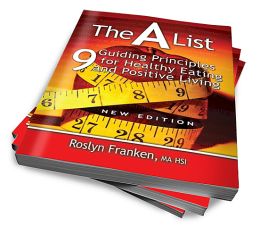 About the Book
|
Testimonials
|
In the Media
|
BUY NOW
The book that is changing lives one bite at a time...
​
At age 39, ten years after surviving cancer, Roslyn Franken stood on the scale one day and discovered that she was at ther heaviest weight ever.
Worried about the health risks of being overweight and out of shape and feeling increasingly self-conscious in her appearance, Roslyn had a decision to make...
Was she prepared to allow herself to continue gaining weight and putting herself at risk of cancer, heart disease, diabetes, high blood pressure and other diet and weight-related diseases? Was she willing to continue the yo-yo dieting, emotional eating and poor stress management and lifestyle habits that got her into trouble in the first place?
The answers to both these questions was easy. The answer was NO.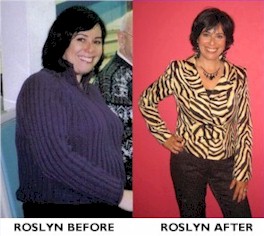 So how did Roslyn achieve lasting weight loss? The answer to this question is what makes up the 9 life-changing principles that Roslyn discovered through her weight loss journey to a healthier body and happier life.

She shares these principles in her easy-to-read and easy-to-follow book, The A List: 9 Guiding Principles for Healthy Eating and Positive Living.


Great little book that gets you started in the right direction"This is an easy-to-read book, with true-life stories from the author to add credibility to her message. She can talk the talk because she has walked the walk. Ample space given within the text to challenge the reader and make it an interactive exercise. Readers will come away motivated, and feeling positive about making realistic, measurable changes towards a healthier lifestyle and disposition." - Truman W.
​More Testimonials

​
​Here are some wonderful results you'll be able to achieve:
​
Eliminate excess weight.
Break free from undue stress.
Gain confidence in your appearance.
Improve sense of well being.
Minimize weight-related health risks (i.e. diabetes, heart disease, hypertension, high cholesterol, digestive diseases, some forms of cancer and more.)
Increase energy.
Get better night's sleep.
Enjoy a more positive outlook.
Have an easier time shopping for clothes.
Reduce menopausal symptoms.
Rise above daily stressors.
Along with loads of practical tools and information, Roslyn Franken shares personal insights from her own struggles with food, weight, and lifestyle plus real life examples from her coaching clients.
With self-reflective questions in a workbook style, Roslyn helps you understand yourself and your relationship with food in a newer, deeper and more meaningful way. This will in turn help you to relearn how to eat properly and improve your quality of life by making healthy, balanced food and lifestyle choices.
With The A List Book, you get...
Practical tools and information in an easy-to-read and easy-to-understand format.
Self-reflective questions in a workbook style to help you understand yourself better and make better choices.
Sample tracking and monitoring forms to help you stay motivated, focused and on track
Personal insights from the author's own struggles with food, weight, health and lifestyle plus real life examples from her coaching clients
.Fast and easy healthy recipes.
THE A LIST Making News
Roslyn has been interviewed on television, radio and print media regarding her book, The A List, in North America and abroad.
CHECK IT OUT
Group Presentations
Roslyn is available for group presentations entitled LIGHTEN UP FOR GOOD featuring principles for healthy eating and positive living from her book, THE A LIST. See promo video below...
Check out Roslyn's other book, MEANT TO BE...
AMAZON REVIEWS
"Wonderful book. Amazing story. Beautifully written." ~ Susan Weiskopf"I read the book in two days - couldn't put it down." ~ Janet Watson"This is a excellent well written, book from the heart, portraying the strength of the human spirit winning over an incomprehensible evil..." ~ Edward

LEARN MORE