Testimonials for THE A LIST Book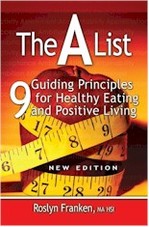 About the Book
|
Testimonials
|
In the Media
|
BUY NOW
"
Roslyn's proven 9 principles will empower you to eat healthier, feel better and be happier than you are today. Read the book and apply the principles so you do not miss this opportunity to make lasting positive changes in your life."
- Dr. James E. Muirhead Psychologist and Mr. Murray Hillier, RN, Clinical Health Educator Founders of the Healthy Living Group
"If Knowledge is KING..Then Roslyn Franken is Queen...Today's world with all its dizzying choices in technology, there is always a way to solve any concern that you may have…just Google it. With all the dizzying choices in food/lifestyle, there's always a way to solve any concern you may have… just Roslyn Franken it. There's a self-professed guru around every corner on the internet today! Roslyn Franken is not a self professed guru..she's an accomplished, beautiful, vivacious, and engaging woman that has triumphed numerous times in her life. Roslyn has beaten fat, cancer, depression, fear, self esteem, and more because she stopped being a victim and became a leader instead…why? Because she deserved it..and so do you! If you are open to empowering yourself by becoming more responsible and accountable and you are open to being guided, then you want to obtain a copy of "The A List: 9 Guiding Principles for Healthy Eating and Positive Living". Roslyn shares her personal experiences and challenges with you, the reader, while providing practical solutions that require nothing more than your personal commitment to yourself to change. Some will get to page 205 and discover that Roslyn is "half the woman" she used to be. I prefer to think of her transformation as the "Real Roslyn" that was reborn. However you look at it, Roslyn Franken is the "real deal. Now let her help you with making the real meal…and positive living"
- Stephan Jacob, Business Channel Director/Senior Executive Producer, World Talk Radio, LLC Home of the VoiceAmerica™ Network
"This is an easy-to-read book, with true-life stories from the author to add credibility to her message. She can talk the talk because she has walked the walk. Ample space given within the text to challenge the reader and make it an interactive exercise. Readers will come away motivated, and feeling positive about making realistic, measurable changes towards a healthier lifestyle and disposition.
- Truman W.
"Roslyn, with the help of her book: "The A List: 9 Guiding Principles for Healthy Eating and Positive Living", has helped me go to the root of my problematic relationship with food…Her approach was very unique as I had to be in contact with her daily and had to report to her about every meal I consumed. What I liked about her approach was that it was all about me. Roslyn has helped me change my relationship with food and helped me change some of my attitudes that were not only affecting my nutrition but my relationship with work, with my friends and with my family. Basically, she changed my life… She helped me remove a huge weight off my shoulders by giving me tools I needed to finally deal with one of my biggest monsters…my relationship with food. Thank you Roslyn for all your help!"
- Marie C.
"Roslyn's book helps individuals gain insight and knowledge in regard to moving forward on a path to better health. The A List is a useful, easy to read guide that enables the reader to achieve his/her desired goals. Roslyn's personal stories of her struggles and triumphs with respect to her own health inspired me to follow her principles for healthy eating and positive living. I highly recommend this book for anyone interested in improving their overall health and well-being."
- Jennie P.
"I am almost done reading through your book and I have to say it is EXCELLENT! I am going through each section at a slow pace to put the info into practice. I have already started losing weight… you raise a lot of great points that I hadn't even thought of or read about in other books/programs. Particularly the "all or nothing attitude." Uh yeah. That's me.. that WAS me!"
- Su T.
"Dear Roslyn: I just want to thank you from the bottom of my heart for your empowering book The A List. I just finished reading it and I finally get it... It wasn't until I read your book that it finally hit me that I wasn't taking care of myself and my needs...
Like I say I am excited but somewhat skeptical because of here we go again setting myself up for failure! However, the other day I was in a situation where I was angry and I said to myself that I was "mad" (I acknowledged out loud that I was mad) and I wasn't going to eat because of it. IT WORKED. I never would have acknowledged my feelings out loud before. It was amazing. I know that that was one day but it felt wonderful. I have had a few treats but I enjoyed them and I didn't throw in the towel because of it. I am going to keep your book in plain site and read it everyday and to remind my self not to say negative things.
I can see it so clearly now, and for that I am truly thankful to you. My daughter is graduating from high school next year, and my son from college so I want to be fit. Before I would have said that I needed to lose the 20lbs like yesterday. I have changed my thoughts on what size jeans I will wear, to the fact I want to be healthy on the inside first. I am so grateful for your insightful book. Thank you again"
-
Marilyn R.
"Thank you, Roslyn. I really enjoyed your book; so thought-provoking. Makes a real difference in people's lives"
​
- Heather M.
"I could not put it down. OH! how some of it sounded familiar....you hit it right on the nose. Easy to read, easy to follow and it will get both my husband and I back on track to better eating habits."